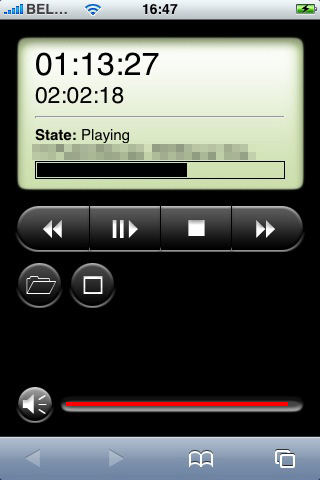 I have released the first pre-alpha build of my web interface for Media Player Classic on Windows, tailored specifically for iPhone and iPod Touch. The whole thing is built around AJAX and allows you to control basic playback functions in MPC, as well as browse your computer for movies. It's not complete as there's still a lot of functionality that can be added but you should have no problem playing, pausing, stopping, seeking, controlling volume or switching between fullscreen and windowed mode.
You can tap inside the progress bar to jump to a position in the movie, or tap inside the volume bar to change the volume.
How To Use
1. Download
Media Player Classic 6.4.9
(and any necessary codecs, of course).
2. Download
my web interface
and unzip it somewhere (doesn't matter where, as long as it's not in your way).
3. In the Options menu find the 'Web Interface'. In it, enable 'Listen on port', disable 'Allow access from localhost only', and enable 'Serve pages from'. You can change the port it listens on but that's optional (default is 13579). Click the 'Browse' button and find the 'webroot' directory that you extracted from my zip file. Then click 'OK'.
4. Open Safari on your iPhone or iPod Touch and go to
http://yourpc:13579/
replacing yourpc with the name or IP address of the computer that's running MPC.
Back
Next